Hubby and the dogs are at war over a particular piece of furniture, namely the "new" sofa. OK, we've had the sofa for over a year, maybe two, but who's counting. The Danes have their own chaise which is big enough for the two of them. Sophie doesn't get on the furniture. She never was allowed to and so never took up the habit. However, I have my suspicions about this "new" sofa, but that will remain our secret. Anyway, the chaise finally has gotten so gross that it needed to be reupholstered which is being done now. So what's a dog to do? Well, duh! That great big champagne colored microfiber sectional was calling their names! Never, EVER will I buy light colored microfiber again. I've heard people rave about it but it sure doesn't work with my crew.
Its been maddening trying to catch them. Almost every time we'd come in, you could see paw prints or drool on the sofa but the little darlings would be standing by the door all happy to see you with tongues hanging out and bums furiously wagging.
Solution: baby gate, stair gate, whatever you want to call them. Ran off to Toys R Us this morning to pick one up. As soon as I got in line to pay, I remembered how much I used to hate this store. I'm sure every mother has experienced trying to carry a screaming child out of Toys R Us without attracting too much attention. Guess what? It still happens. Brought back some memories that did!
But I digress. I bought the tallest(36") gate they had and got it installed no problem, no tools required. This is what I bought.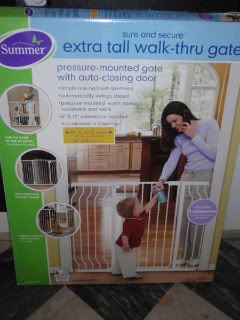 Here's Roxy checking out the installation process and thinking, "You have GOT to be kidding!".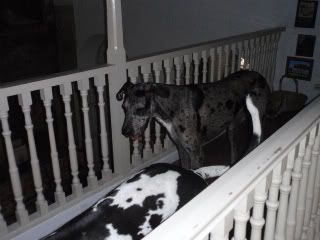 And the finished product with Sophie and Lilly "in jail". Poor kids!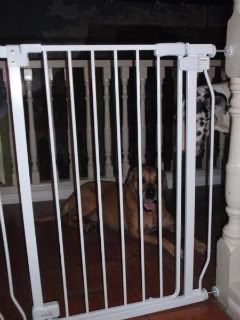 Sophie showing her disgust at the new contraption.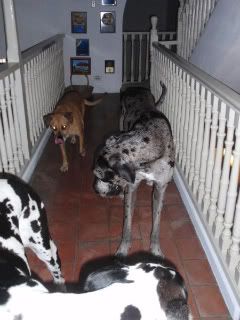 Hopefully now, we can all live in peace and harmony and hubby can be happy that the dogs aren't on the sofa when they're home alone, which by the way is hardly ever!