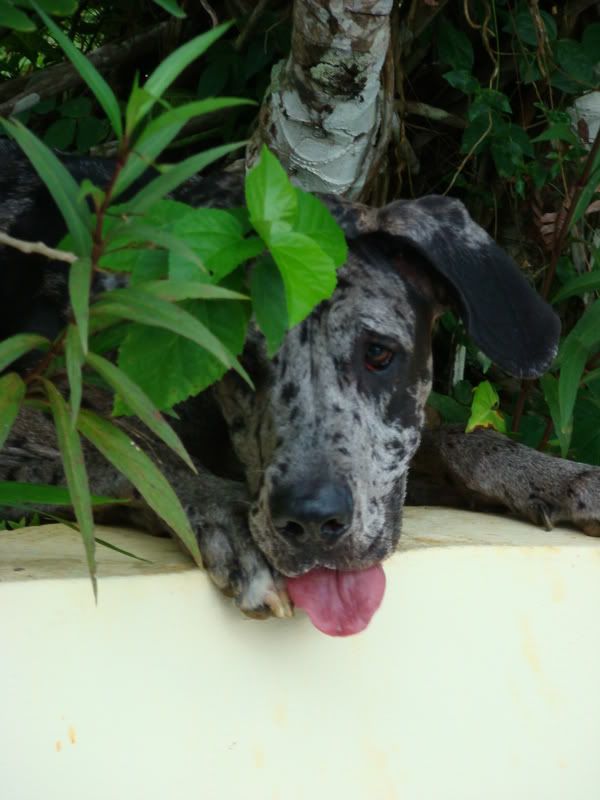 Rally, also called RallyO or Rally Obedience is a relatively new sport. It was officially accepted by the AKC and competitions began in January 2005. According to the AKC, it's their stepping stone from the CGC(Canine Good Citizen) to traditional Obedience and Agility.
In Rally classes(competition)the team of dog and handler move continuously and perform the exercises indicated by a sign at each location. After the judges "Forward" command, the team is on its own to complete the entire sequence correctly. Unlimited communication from the handler to the dog is encouraged and not to be penalized. So, you see, there's a difference right there from traditional obedience. You can TALK to your dog. Isn't this something we all do with our dogs? It's the most common way of teaching your dog.

There are 3 levels of of Rally: Novice, Advanced and Excellent. Novice is done on leash and includes 10-15 stations, while Advanced and Excellent are off leash and involve more difficult exercises as well as more stations including a vertical and/or broad jump.
You can read more about Rally, including regulations and search for shows here:
Getting started in AKC Rally
The reason I'm talking to you about Rally is because I'm just getting started and thought it would be fun to let you all see, firsthand, how my preparations are going. Could be more of a laugh but we're having fun.
At a friend of mines insistence(you're gonna pay S.)I've entered my first Rally trial to be held next week. I've been keeping a log for the past 3 weeks of what I've worked on every day and how Roxy(my 2 yr old Great Dane)is progressing. Since we've had no formal training in Rally and only basic obedience, I've been doing a LOT of reading, internet searching and forum chatting with Rally people to get myself informed and hopefully, adequately prepared.

Last night we attended a fun match put on by a local club. Now, for Mr. No Dog Experience Spectator, you would have seen my round as a disaster. But for me and Roxy it was a great learning experience. She has a big strike against her in that she is not at all used to being around lots of people and dogs, so EVERYTHING, and I mean EVERYTHING, was very new and exciting. She did very well warming up outside the ring but decided that once in the ring it was much more interesting elsewhere and was very unfocused on me. No problem, the judge knew we were inexperienced and was very nice. This was an obedience class, not rally, but I talked Roxy through it anyway. It's only practice, right?! On a high note, I ran in to a trainer friend of mine who offered to let me do a run through of a real Rally class on Monday night. YIPPEE!

So that's what's happening on my little island. I'll be keeping you updated weekly on our progress. Until then, Train, don't complain.